Croatia is considered a gateway into the eastern part of Europe, being located along the eastern coast of the Adriatic sea. Additionally, it shares borders with Slovenia, Bosnia and Herzegovina, Hungary, Montenegro, and Serbia. It has a diverse terrain, which varies from rocky coastlines to mountains, plains, lakes, and even rolling hills.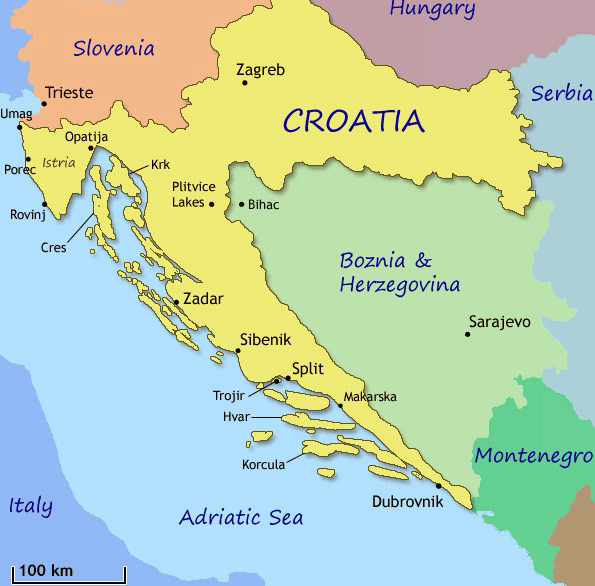 The coastline of the Adriatic is one of the most indented in Europe with 1,185 islands and islets. Only sixty-six of these are inhabited which is undoubtedly what makes it quite a popular destination for tourists. Continental Croatia has abundant forests, rivers that are full of fish, mountain streams, and deep ravines in addition to the beautiful Plitvice Lakes. The land of Croatia is plentiful in wheat fields, woods, wide rivers. Additionally, it is a land that is full of unique villages, castles and manors boasting of romance, vineyards as well as rolling hills that are beautifully picturesque.
Before traveling to The Republic of Croatia, you must have a valid passport that is good for three months beyond the expected stay in Croatia. For US and EU citizens no visa is required for stays three months or less. Click here to see the countries whose nationals do not require visas to enter Croatia. The crime rate is fairly low, and tourists do not seem to be targets of any criminal activity, however, as with any place you may visit, outward signs of wealth can make you a target, so avoid anything that would allow criminals to know that you are a person of financial stature.
There is certainly no lack of things to see during your holiday in Croatia beginning with its many lighthouses. These lighthouses make for a very different type of vacation, and you can choose one near the tourist attractions or in the middle of the sea on your own private island of sorts. The sleeping accommodations for the lighthouses range from four people to some as high as fourteen people. For a little view of nature, you may want to visit Plitvice Lakes, one of Croatia's most well known national parks and one of the most beautiful places in Europe to view sights of nature. Of course, whether you choose to partake of either of these beautiful sights of Croatia is going to be determined by the time of the year you commence your travel.
As with most European countries, summer travel is the most common season, and in Croatia, you may choose to enjoy rural tourism within Croatia's many village that encompass its continental region. Health tourism is another possibility with the number of spas as well as thermal and mineral springs located in places such as Varazdinske, Tuheljske, Stubicki, and Krapinske spas as well as many more. For those visitors who enjoy the taste of the finer foods, or simply prefer food that is both tasty and healthy, Croatia will certainly appeal to this group of people. The wine cellars of Croatia are another attraction worth exploring with each area boasting of its own perfected variety.
Some of the places you might want to visit during your vacation in Croatia include the following:
Zagreb. It is a very active and large European urban area with well-preserved European charm of the Central region. This is the capital of Croatia, and as such is the center all things political, cultural, economic, and intellectual.
Istria is the closest and the easiest of the tourist regions to access from Western Europe. It is the most developed of the tourist regions with landscape that bears resemblance to what one might see in Tuscany or Province. Evidence of culture of the original inhabitants remains in the architecture, wall paintings and the architecture of the churches. Throughout the interior of the peninsula, one can find vineyards and beautiful little towns.
Porec is reported to be the most frequented resorts of Istria. It is well known for not only its hotel settlements, but also the Blue and Green Lagoons and St. Nicolas. Porec became a Roman colony in the 2nd Century B.C., and as such has preserved culture and architecture from these ancient Roman times.
Rovinj is another famous resort, which has many historical and sacral buildings as well as places from the Renaissance and Baroque periods.
The Brijuni Archipelago is the combination of two large and twelve smaller islands off the west Istria coast. It is one of Croatia's seven national parks and has an abundance of different species of rare plants and animals. It also includes a zoo park, which houses animals from other types of climates.
Pula is on Istria's southern tip and its main attraction is the still-standing 2,000-year-old amphitheatre. It is Istria's largest city and port, and with its 2,350 hours of sunshine per year, is an attractive holiday destination for tourists.
There are beaches, museums, and much more than you may want to see, so by all means visit the Tourist Center as soon as you arrive and find out all of the many things from which you have to choose.
Accommodation in Croatia
One of the big problems one faces when traveling to any foreign country is where to stay. So many different types of accommodations exist, and it's often difficult to decide with what you feel most comfortable. Before traveling to Croatia, take some time to visit Airbnb or Booking sites for some of the apartments that are available for tourists. For some people, this kind of accommodation is better suited than just a hotel.